Securing a legacy for the CGIAR Research Program on Water, Land and Ecosystems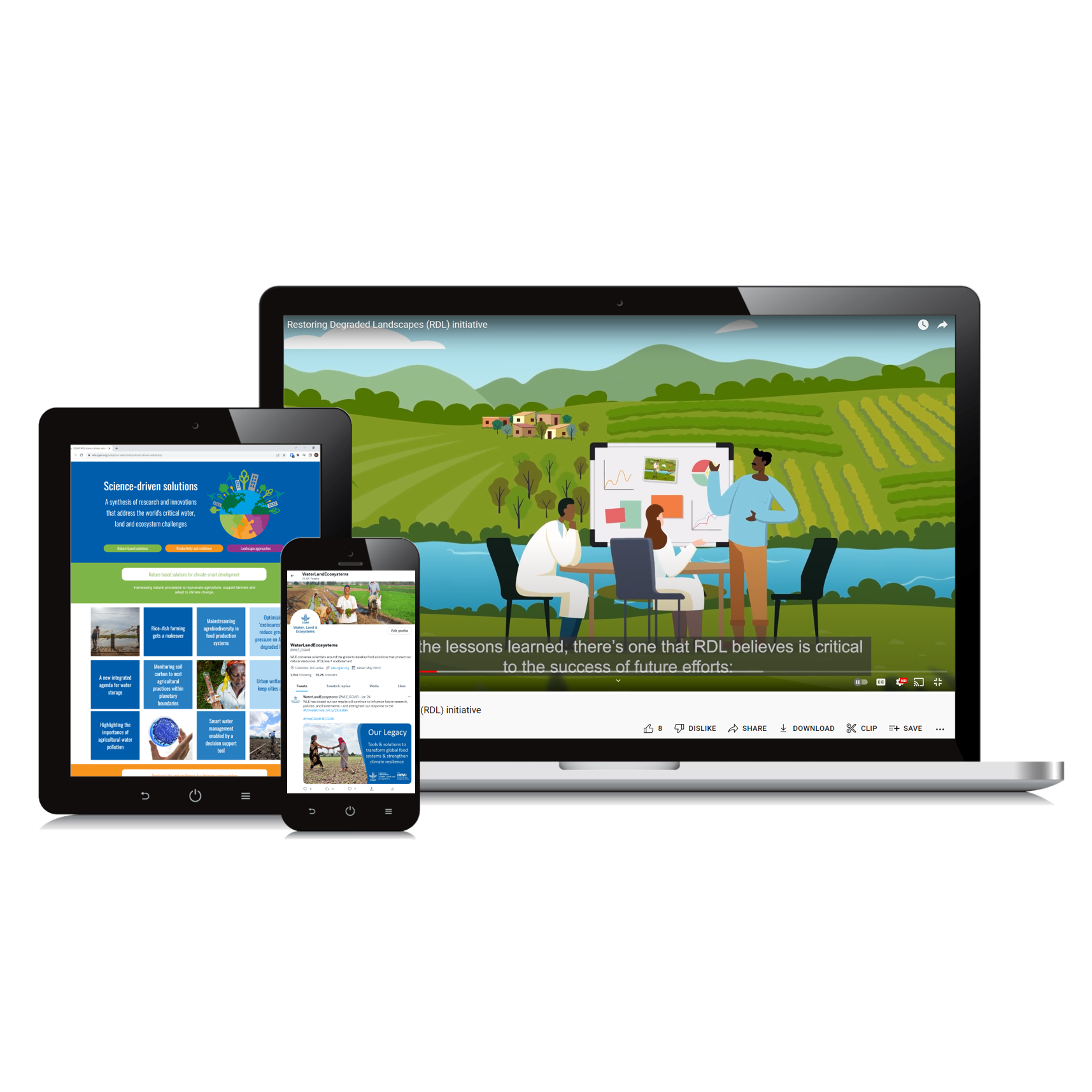 Scriptoria coordinated communications for the CGIAR Research Program on Water, Land and Ecosystems (WLE) during its final year, capping a decade of innovative research and transformative solutions for rural communities across the Global South.
Through its research on regenerative agriculture to pro-poor solar irrigation business models and soil spectroscopy, WLE helped to strengthen climate resilience, boost agricultural productivity and restore the heath of fragile ecosystems.
Scriptoria developed and implemented a communications strategy that aimed to secure WLE's legacy – ensuring that its innovations and solutions will continue to inform future investments, policies and research.
Working alongside programme directors and senior researchers, Scriptoria synthesised WLE's research, identified high-potential solutions, and rolled out a series of knowledge products that translated the programme's evidence into accessible and engaging narratives.
These included the knowledge platform Science-driven solutions; synthesis briefs that distilled key insights and research outputs; animations and videos that captured new evidence; and a pioneering rapid evidence review on agriculture and the environment authored by leading experts across the world.
In addition to the wider WLE programme, Scriptoria also delivered support to WLE's Commission on Sustainable Agriculture Intensification (CoSAI) and its promotion of investment in innovation for sustainable agri-food systems, assisting in the production of new studies and briefs and packaging evidence into online content.
Dissemination of WLE's research and knowledge products was closely aligned with major events, including the UN Food Systems Summit (UNFSS) and COP26 in 2021. Strategic social media campaigns and a webinar series in the lead up to COP26 provided a platform for WLE researchers to present their research and discuss insights and perspectives. Scriptoria also helped WLE researchers prepare for major global conferences, including the Water and Climate Pavilion at COP26.
As the programme concluded, we organised reflection workshops to help identify lessons learned from its implementation. These lessons were captured in a brief designed to inform future research for development initiatives.
Scriptoria supported WLE from October 2020 to June 2022.