Scriptoria develops new core data handling and analysis systems for the UN FAO global Desert Locust tracking services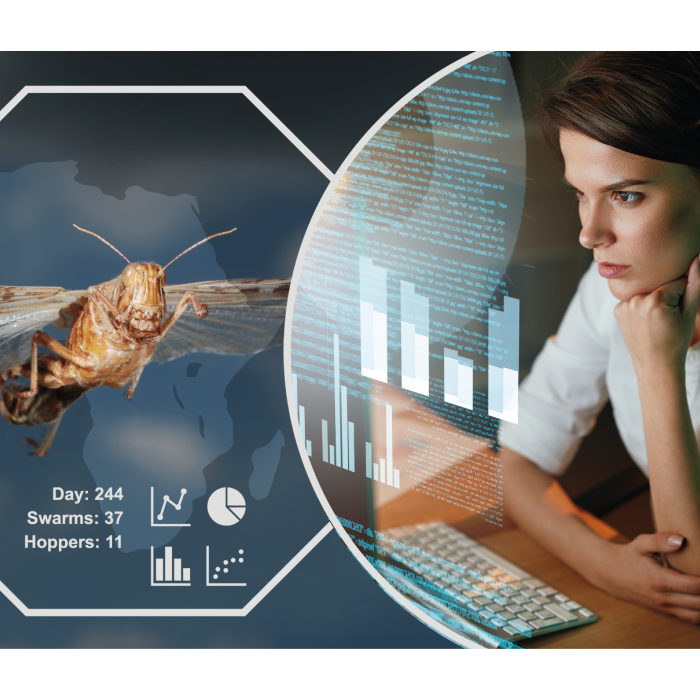 Desert locusts: a major threat
Desert locusts are considered the world's most destructive migratory pest. Able to fly between 100 and 200 km a day, a single swarm can contain hundreds of millions of locusts and eat enough crops in a day to feed tens of thousands of people and animals.
As a result, large locust outbreaks, such as those seen in 2019 and 2020, cause major food shortages and hunger, economic loses of billions of dollars, and even armed conflict as people are forced to migrate due to loss of livelihoods.
Vast amounts of data
Because Locusts are such a major issue, the Food and Agriculture Organization of the United Nations (FAO) dedicates a specific team to tracking and coordinating responses to this livelihood destroying pest. Over several decades, the FAO Desert Locust team has created a warning system to protect over 50 countries against invading Desert Locust plagues. This network of survey teams gathers tremendous amounts of data which are analysed by experts based at FAO to decide the best responses (through treatments like aerial spraying).
At the height of the plague in 2020, the FAO team was receiving more than 1,000 complex survey reports of locust per day. All this data had to be checked and cleaned (to account for things like the same swarm being reported twice) before being pulled together and analysed.
Dealing with this amount of data from 50 different countries was taking up huge amounts of FAO's key experts' time – time that could be better spent analysing the data and implementing responses.
Scriptoria's solution
Scriptoria built a cloud-based data system to automatically gather all the data from all the countries being surveyed, clean and rationalise it, and then make it available instantly to the researchers who need it. The system uses automated data cleansing and provides dashboards and maps for easy analysis. Techniques such as machine learning are also being used to understand complex issues – such as how researchers make key decisions about whether different reports show two swarms close together or the same swarm reported by different observers.
"Scriptoria's work has reduced the time we spend on data management and access by some 70%."
To provide the FAO with real power, we also provided a secondary system (what we describe as an 'analytical net') which allows the researchers to view and access their data in very different ways from those normally used in this type of system. These analytical systems mean that the researchers can easily and instantly run detailed analyses of the data – drilling through and comparing different data sets in a way they simply couldn't before.
As a result of this proven performance, the team leader for Desert Locust stated that our system "has revolutionised the way FAO manages locust data coming from affected countries, which is the foundation of the global early warning system."