Scriptoria creates new website and interactive map for Cooperation in International Waters in Africa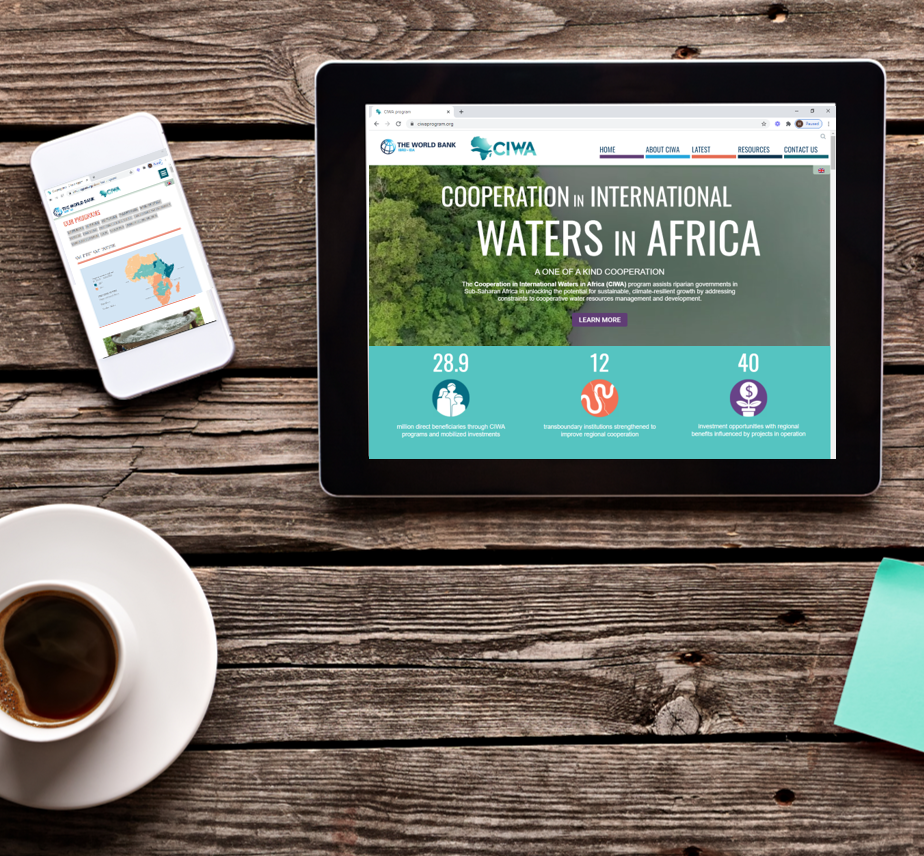 Cooperation in International Waters in Africa (CIWA) helps riparian governments in Sub-Saharan Africa unlock the potential for sustainable, climate-resilient growth. They do this by addressing constraints to cooperative water resources management and development.
Scriptoria has been working with CIWA on a range of innovative communications tools, including a new website, annual report and an interactive map which was recently launched.
Engaging website
Scriptoria created a fresh look for the CIWA website, starting with a revamped logo and colour scheme. Our team then updated the website's user journey, based on analytic reports about audience behaviour. This included reorganising information so that it was more accessible, as well as adding engaging imagery and captioned videos.
One of the main requirements of the new website was for it to meet the needs of CIWA's multilingual audience. Scriptoria created both French and English versions of the content, allowing users to switch with ease between the two.
As part of this process, Scriptoria produced a user guide and ran training sessions for CIWA staff so they could become familiar with the CMS and update it on a regular basis following the website's launch.
Interactive map
CIWA wanted to make sure that website users were able to see the breadth and scope of the project work they are involved in across Africa. To do this, Scriptoria designed and built an interactive map which was integrated into the Our Programs page of the new site.
Annual report
CIWA also engaged Scriptoria to design and produce their 2020 Annual Report. Our team came up with four different layout options for CIWA to choose from, and also designed infographics and maps to make CIWA's largest achievements visible.
To further highlight key points from the annual report, Scriptoria built a landing page – and added links on CIWA's front page to give the report strong exposure through the remainder of the year.
Need help with your next project? Discover the full range of Scriptoria's communications services and contact the team to get a quote.