Putting water at the heart of sustainable development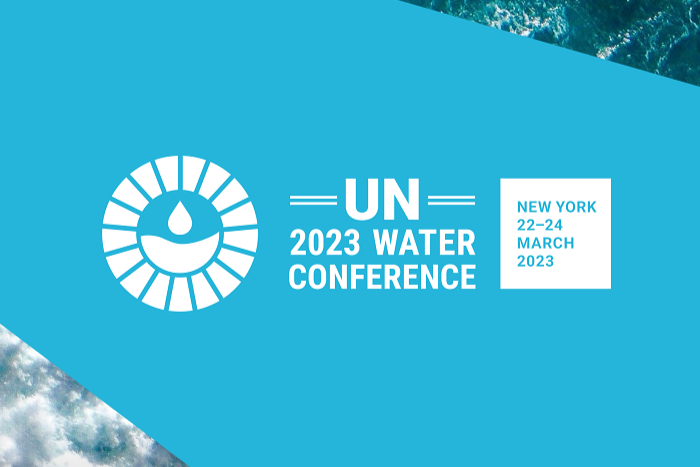 Scriptoria's Communications Services team is dedicated to communicating the stories and complexities of sustainable development worldwide. We were excited to work with a range of partners attending the UN 2023 Water Conference in New York this March. As António Guterres, Secretary-General of the United Nations, said last week: "Without water, there can be no sustainable development." After a busy few weeks creating comprehensive communications plans and high-quality communications materials for the conference, we can now reflect on some of the highlights. 
Underlining the need for integrated solutions
The Global Water Partnership (GWP) is a network of water organisations that promotes the effective, efficient and sustainable management of water resources around the world. They co-hosted and participated in over 30 events throughout the three-day conference to demonstrate the impact of their multistakeholder partnership to improve the global management of water resources. Scriptoria designed and produced a programme of events to showcase the breadth of GWP's contribution. 
A significant result of the conference was that UN Member States and stakeholders made more than 700 pledges to the Water Action Agenda. As a leading authority on water governance, GWP is committed to actively advancing the global water agenda. Along with its network, GWP submitted over 35 pledges, and Scriptoria's in-house team of writers were on hand to quickly communicate GWP's impact by writing their World Water Day special newsletter and conference summary blog. 
Transforming the future of water security
The vision of the International Water Management Institute (IWMI) is for a water-secure world. Its research has led to changes in water management that have contributed to social and economic development across the Global South. IWMI co-convened the Transformative Futures for Water Security (TFWS) initiative: a unique consultation process that included eight virtual regional dialogues and a global conference held this February in Cape Town – producing eight missions for water security. They published the outcomes of this conference in the Nature Water journal. 
With IWMI staff leading or speaking at over 30 events at the water conference, Scriptoria was on hand to support IWMI in amplifying the diverse voices of water users across the Global South and ensuring that the eight transformative missions fed into the UN Water Action Agenda. 
The Scriptoria team were able to support IWMI on demand before, during and after the conference, including contributing to a campaign strategy, live-tweeting events, and creating comprehensive social media toolkits for stakeholders and an extensive communications plan filled with engaging social media posts, graphics and videos. With Scriptoria's support, IWMI made 300,000+ impressions on social media in the lead-up to and during the UN 2023 Water Conference, taking IWMI's message to a broad audience. 
Bringing systems thinking to the UN 2023 Water Conference
As part of Scriptoria's work hosting a monthly seminar series for the CGIAR Initiative on NEXUS Gains, the team organised and facilitated a webinar on the TFWS initiative and the importance of a systems approach to achieving future water security. Scriptoria summarised the key messages from the webinar in a blog on "Bringing nexus thinking to the UN 2023 Water Conference" and were on hand to help promote an active three days for the NEXUS Gains' team at the conference itself. As water, energy, food and environmental systems are all highly interconnected, NEXUS Gains is taking an integrated approach to natural resources management to support sustainable, resilient and inclusive development.  
The future of the sustainable development conversation
During the closing remarks of the UN 2023 Water Conference, General Assembly President, Csaba Kőrösi said delegates had reconfirmed the promise to implement the human right to water and sanitation for all. He added that this meant we must reach "the millions who are not even aware that we are meeting here today." 
At Scriptoria, we believe in the power of communication for the global good. This comment from Csaba Kőrösi made us think about how much more we can do to ensure as many people as possible understand the power and potential of sustainable development. Scriptoria brings decades of communications experience, experts in climate and water issues, and a passion for sustainable development to every job. Our communications strategists and writers take the time to get to know you – your aims and accomplishments, the intricacies of your organisation and your stakeholders – to create high-quality communications that reflect your unique work and values.
---
Find out how Scriptoria's Communications team can support your organisation by contacting us at: communications@scriptoria.co.uk