Launch of LIFT's interactive results map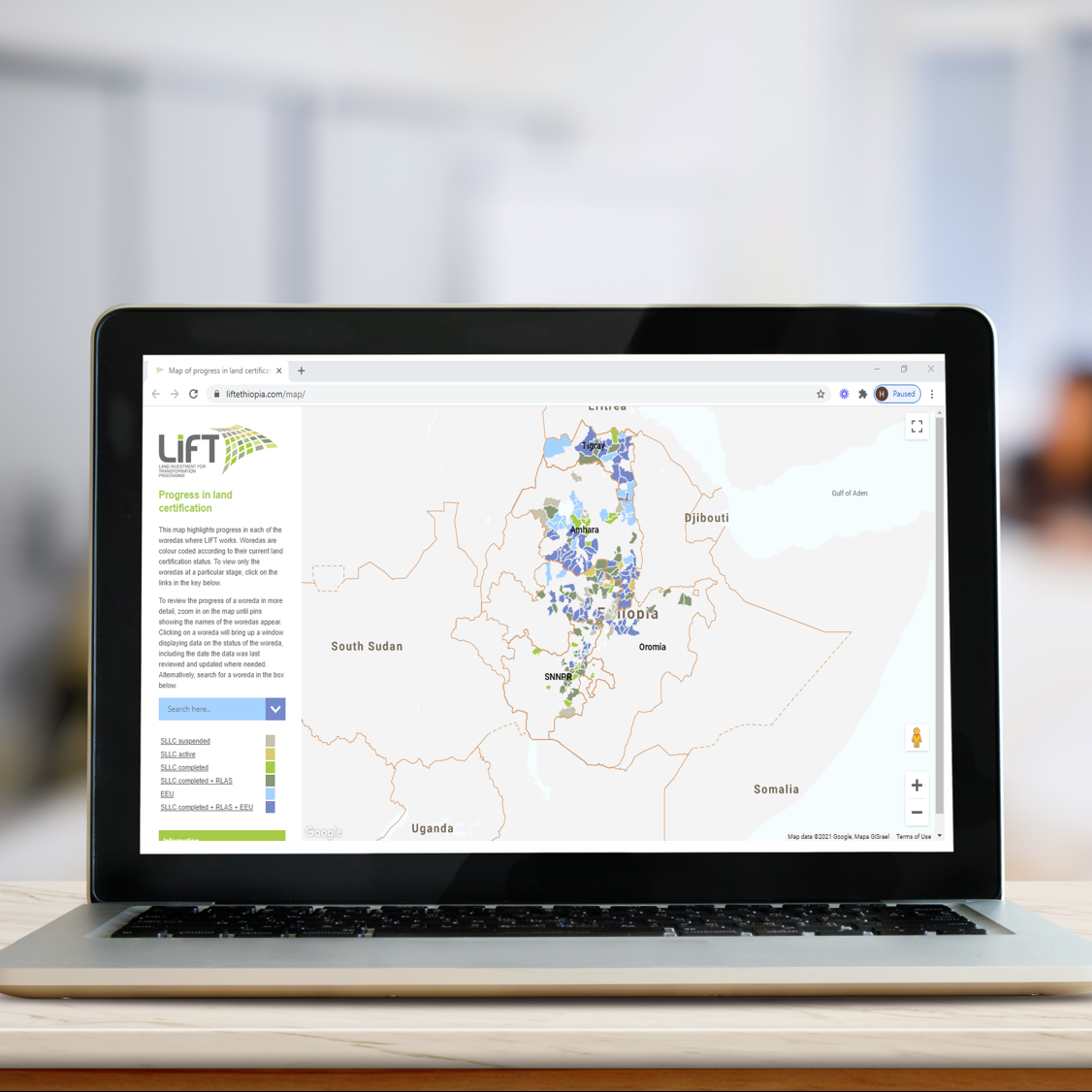 What is the most innovative way to give an overview of project progress across regions in Ethiopia? We asked this question as part of our work with the Land Investment for Transformation (LIFT) programme. Our solution was to create an interactive results map within a custom content management system, which allows users to easily access data for individual woredas (districts) with the click of a mouse.
Funded by the UK Foreign, Commonwealth and Development Office (FCDO) and implemented in partnership with the Ethiopian Ministry of Agriculture's Rural Land Administration and Use Directorate, LIFT is one of the world's largest land tenure programmes.
What does LIFT do?
LIFT takes an all-encompassing approach to securing landholders' tenure rights by certifying land holdings while also ensuring that future land transactions are recorded and farmers' land rights maintained.
It is achieving this through the installation of a computerised rural land administration system while also catalysing farmers' investments in their certified land through market development interventions.
So far, LIFT has installed computerised rural land administration systems in 142 woredas and distributed 12.6 million certificates to landholders – over 90 percent of these have women named as the sole or joint landholder.
Showcasing knowledge products
Scriptoria has been providing communications support to LIFT since 2019. Alongside the interactive results map, we created a knowledge hub which brings together LIFT's many years of extensive research and experience.
The hub allows users to enter key words to search through an online library of LIFT reports, strategies and case studies, and filter results to find relevant insights and lessons learned.
As well as setting up this knowledge hub, our team has also been writing summaries of LIFT's longer research documents. More of these will be added to the hub over the coming months.
For more information on Scriptoria's data, knowledge management and communications services, get in touch: communications@scriptoria.co.uk