Communicating the SDGs: Springer Nature panel event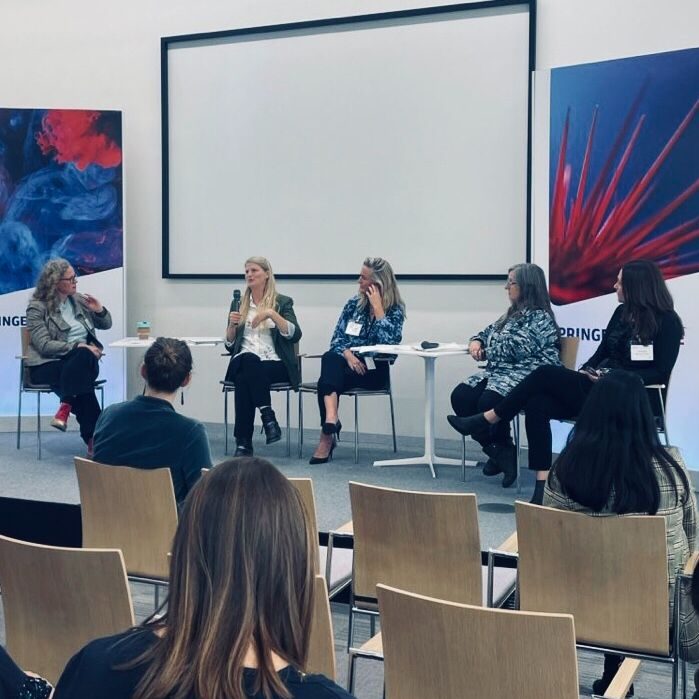 What role does communications have in achieving the Sustainable Development Goals (SDGs)? This was the question posed to an inspiring panel of experts that Scriptoria was honoured to be part of at a recent event held by Springer Nature and Estée Lauder Companies as part of the Inspiring Women in Science Awards.
Our senior communications specialist Daisy Brickhill was sharing a panel with a truly inspiring group of women including Nicola Jones, director of the Springer Nature SDG Programme; Tamsine O'Riordan, editorial director and senior leader within the Springer Nature books division; and Sarah Vickery, vice president and Estée Lauder companies' fellow for scientific communications. The panel was chaired by Flora Graham, senior editor of the Nature Briefing.
The conversation touched on many interesting aspects of this broad and crucial topic. One factor that our Scriptoria expert was quick to highlight was the vital and often forgotten fact that communications is not just talking about the progress we have made towards the SDGs, but a vital part of achieving that progress. Using strategic communications to create a dialogue across all groups – from local communities to government policymakers – is how we build the multitude of local and global solutions needed to realise the SDGs.
Making that happen means putting in place an effective communications strategy, and at Scriptoria we've helped many organisations in sustainable development to create these. Starting from the bedrock foundations of what you want to achieve in the real world, a good strategy will put in place clear communications goals and messages as a basis for creative content that all works together towards those central goals and a sustainable future for all.
Yesterday, the winners of the Inspiring Women in Science Awards were announced and we would encourage you to take a look at the list of nominees and winners – the judges will have had a tough time choosing between these amazing women and their fantastic achievements!
For more information on Scriptoria's communications services, get in touch: communications@scriptoria.co.uk